Ajman
also spelt Ujman, is one of the seven emirates constituting the United Arab Emirates (UAE). With an area of just 260 square kilometres (100 sq mi), Ajman is the smallest emirate by area. Its seat of government is Ajman, which is bordered on its north, south, and east by Sharjah.
Located along the Persian Gulf, Ajman also controls Masfut and Manama, two small, inland enclaves that are primarily agricultural.
Approximately 95% of the population of the emirate resides in the city of Ajman. The population was only 36,000 in 1980 but grew considerably in recent years, due to an influx of people from the neighbouring emirates of Dubai, Sharjah, and other countries.
Ajman is ruled by Humaid bin Rashid Al Nuaimi of the Al Nuaimi tribe. The Crown Prince of the Emirate is Sheikh Ammar bin Humaid Al Nuaimi. Ajmān has experienced massive development and a construction boom in recent years.
| | | | | |
| --- | --- | --- | --- | --- |
| 1964.01 | 20.06.1964 | Definitives | | |



| | | | |
| --- | --- | --- | --- |
| 15n | 24 | White Stork Ciconia ciconia | |
| 20n | 66 | Black-headed Gull Chroicocephalus ridibundus | |
| 30n | 38 | Lanner Falcon Falco biarmicus | |
| | | | | |
| --- | --- | --- | --- | --- |
| 1964.02 | 04.11.1964 | Definitives | | 1964.01 |



| | | | |
| --- | --- | --- | --- |
| 3r | 24 | White Stork Ciconia ciconia | |
| 5r | 66 | Black-headed Gull Chroicocephalus ridibundus | |
| 10r | 38 | Lanner Falcon Falco biarmicus | |
| | | | | |
| --- | --- | --- | --- | --- |
| 1965.01 | 18.12.1965 | Air | "AIR MAIL" | 1964.01 |
| | | | |
| --- | --- | --- | --- |
| 2r | 24 | White Stork Ciconia ciconia | |
| 3r | 66 | Black-headed Gull Chroicocephalus ridibundus | |
| 5r | 38 | Lanner Falcon Falco biarmicus | |
| | | | | |
| --- | --- | --- | --- | --- |
| 1965.02 | 18.12.1965 | Official stamps | "ON STATE'S SERVICE" | 1964.01 |
| | | | |
| --- | --- | --- | --- |
| 2r | 24 | White Stork Ciconia ciconia | |
| 3r | 66 | Black-headed Gull Chroicocephalus ridibundus | |
| 5r | 38 | Lanner Falcon Falco biarmicus | |
| | | | | |
| --- | --- | --- | --- | --- |
| 1967.01 | 19.01.1967 | Overprint with new currency name on 1964.01-2 | | |
| | | | |
| --- | --- | --- | --- |
| 15d | 24 | White Stork Ciconia ciconia | |
| 20d | 66 | Black-headed Gull Chroicocephalus ridibundus | |
| 30d | 38 | Lanner Falcon Falco biarmicus | |
| 3r | 24 | White Stork Ciconia ciconia | |
| 5r | 66 | Black-headed Gull Chroicocephalus ridibundus | |
| 10r | 38 | Lanner Falcon Falco biarmicus | |
| | | | | |
| --- | --- | --- | --- | --- |
| 1967.02 | 19.01.1967 | Overprint with new currency name on 1965.01 | | |


| | | | |
| --- | --- | --- | --- |
| 2r | 24 | White Stork Ciconia ciconia | |
| 3r | 66 | Black-headed Gull Chroicocephalus ridibundus | |
| 5r | 38 | Lanner Falcon Falco biarmicus | |
| | | | | |
| --- | --- | --- | --- | --- |
| 1967.03 | 19.01.1967 | Overprint with new currency name on 1965.02 | | |
| | | | |
| --- | --- | --- | --- |
| 2r | 24 | White Stork Ciconia ciconia | |
| 3r | 66 | Black-headed Gull Chroicocephalus ridibundus | |
| 5r | 38 | Lanner Falcon Falco biarmicus | |
| | | | | |
| --- | --- | --- | --- | --- |
| 1969.01 | 25.01.1969 | Birds | | Manama 1969.01 |









| | | | |
| --- | --- | --- | --- |
| 1r | 35 | Secretarybird Sagittarius serpentarius | |
| 1r | 48 | Grey Crowned Crane Balearica regulorum | |
| 1r | 28 | Shoebill Balaeniceps rex | |
| 1r | 25 | African Sacred Ibis Threskiornis aethiopicus | |
| 1r | 73 | Grey Parrot Psittacus erithacus | |
| 1r | 73 | Dusky-billed Parrotlet Forpus modestus | |
| 1r | 73 | Blue-backed Parrot Tanygnathus sumatranus | |
| 1r | 73 | Moluccan Hanging Parrot Loriculus amabilis | |
| 1r | 73 | Yellow-headed Amazon Amazona oratrix | |
| 1r | 165 | Wilson's Bird-of-paradise Diphyllodes respublica | |
| 1r | 165 | Twelve-wired Bird-of-paradise Seleucidis melanoleucus | |
| | | | | |
| --- | --- | --- | --- | --- |
| 1971.01 | 12.04.1971 | Hiroshige | | |







| | | | |
| --- | --- | --- | --- |
| 1d | 26 | Little Egret Egretta garzetta | |
| 2d | 11 | Common Pheasant Phasianus colchicus | |
| 3d | 26 | Little Egret Egretta garzetta | |
| 4d | 37 | Japanese Sparrowhawk Accipiter gularis | |
| 5d | 24 | White Stork Ciconia ciconia | |
| 10d | 11 | Golden Pheasant Chrysolophus pictus | |
| 2r | 11 | Golden Pheasant Chrysolophus pictus | |
| 3r | | Not identified Not identified | |
| | | | | |
| --- | --- | --- | --- | --- |
| 1971.02 | 12.04.1971 | Hiroshige | | |
| | | | |
| --- | --- | --- | --- |
| 10r | 24 | White Stork Ciconia ciconia | MS |
| and | 48 | Red-crowned Crane Grus japonensis | |
| | | | | |
| --- | --- | --- | --- | --- |
| 1971.03 | 27.04.1971 | Tropical Asiatic birds | Sheet | |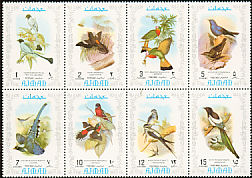 | | | | |
| --- | --- | --- | --- |
| 1d | 162 | Hooded Treepie Crypsirina cucullata | |
| 2d | 110 | Dusky Broadbill Corydon sumatranus | |
| 3d | 95 | Red-bearded Bee-eater Nyctyornis amictus | |
| 5d | 212 | Grandala Grandala coelicolor | |
| 7d | 162 | Red-billed Blue Magpie Urocissa erythroryncha | |
| 10d | 110 | Black-and-red Broadbill Cymbirhynchus macrorhynchos | |
| 12d | 84 | Moustached Treeswift Hemiprocne mystacea | |
| 15d | 162 | Eurasian Magpie Pica pica | |
| | | | | |
| --- | --- | --- | --- | --- |
| 1971.04 | 27.04.1971 | Tropical Asiatic birds | Sheet | |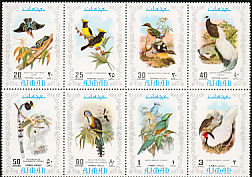 | | | | |
| --- | --- | --- | --- |
| 20d | 205 | Beautiful Nuthatch Sitta formosa | |
| 25d | 177 | Sultan Tit Melanochlora sultanea | |
| 30d | 111 | Indian Pitta Pitta brachyura | |
| 40d | 11 | Brown Eared Pheasant Crossoptilon mantchuricum | |
| 50d | 162 | Yellow-billed Blue Magpie Urocissa flavirostris | |
| 80d | 76 | Scale-feathered Malkoha Dasylophus cumingi | |
| 1r | 162 | Common Green Magpie Cissa chinensis | |
| 3r | 11 | Silver Pheasant Lophura nycthemera | |
| | | | | |
| --- | --- | --- | --- | --- |
| 1971.05 | 27.07.1971 | World jamboree | 6v set | |

| | | | |
| --- | --- | --- | --- |
| 20d | 48 | Red-crowned Crane Grus japonensis | |
| | | | | |
| --- | --- | --- | --- | --- |
| 1971.06 | 28.07.1971 | Overprint UNICEF on 1971.05 | | |
| | | | |
| --- | --- | --- | --- |
| 20d | 48 | Red-crowned Crane Grus japonensis | |
Custom Search
If you liked this article, subscribe to the feed by

clicking

the image below to keep

informed

about new

contents of the

blog

: