Aruba is a 33 km-long island of the Lesser Antilles in the southern Caribbean Sea, located 27 km north of the coast of Venezuela and 130 km (aprox.) east of Guajira Peninsula (Colombia). Together with Bonaire and Curaçao, it forms a group referred to as the ABC islands of the Leeward Antilles, the southern island chain of the Lesser Antilles.
Aruba is one of the four constituent countries that form the Kingdom of the Netherlands, together with the Netherlands, Curaçao, and Sint Maarten whose citizens share a single nationality: Dutch citizen.
Aruba has no administrative subdivisions, but for census purposes is divided into 8 regions. Its capital is Oranjestad. Unlike much of the Caribbean region, Aruba has a dry climate and an arid, cactus-strewn landscape.
This climate has helped tourism as visitors to the island can reliably expect warm, sunny weather. It has a land area of 179 square kilometres (69 sq mi) and is densely populated with a total of 101,484 inhabitants at the 2010 Census. It lies outside the hurricane belt. It is also home to the endemic Aruba Island Rattlesnake.
Face value | Family number | English name | Scientific name
| | | | | |
| --- | --- | --- | --- | --- |
| 1986.01 | 05.02.1986 | Definitives | | |

| | | | |
| --- | --- | --- | --- |
| 35c | 78 | Burrowing Owl Athene cunicularia | |
| | | | | |
| --- | --- | --- | --- | --- |
| 1988.01 | 04.05.1988 | Greetings stamps | 2v set | |

| | | | |
| --- | --- | --- | --- |
| 70c | 229 | Bananaquit Coereba flaveola | |
| | | | | |
| --- | --- | --- | --- | --- |
| 1990.01 | 07.02.1990 | Environmental protection | 3v set | |

| | | | |
| --- | --- | --- | --- |
| 55c | 38 | American Kestrel Falco sparverius | |
| | | | | |
| --- | --- | --- | --- | --- |
| 1991.01 | 29.11.1991 | Tourism | 3v set | |

| | | | |
| --- | --- | --- | --- |
| 35c | 104 | Toco Toucan Ramphastos toco | |



| | | | |
| --- | --- | --- | --- |
| 5c | 78 | Burrowing Owl Athene cunicularia | |
| 10c | 78 | Burrowing Owl Athene cunicularia | |
| 35c | 78 | Burrowing Owl Athene cunicularia | |
| 40c | 78 | Burrowing Owl Athene cunicularia | |
| | | | | |
| --- | --- | --- | --- | --- |
| 1997.01 | 29.05.1997 | Pacific 97 | 9v sheet | |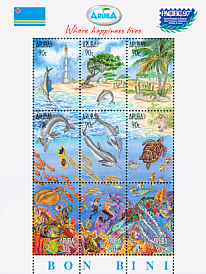 | | | | |
| --- | --- | --- | --- |
| 90c | 78 | Burrowing Owl Athene cunicularia | |
| | | | | |
| --- | --- | --- | --- | --- |
| 1998.01 | 10.07.1998 | Arubian birds | | |




| | | | |
| --- | --- | --- | --- |
| 50c | 208 | Tropical Mockingbird Mimus gilvus | |
| 60c | 38 | American Kestrel Falco sparverius | |
| 70c | 228 | Venezuelan Troupial Icterus icterus | |
| 150c | 229 | Bananaquit Coereba flaveola | |
| | | | | |
| --- | --- | --- | --- | --- |
| 2001.01 | 31.01.2001 | Pets | 4v set | |

| | | | |
| --- | --- | --- | --- |
| 200c | 73 | Brown-throated Parakeet Aratinga pertinax | |
| | | | | |
| --- | --- | --- | --- | --- |
| 2002.01 | 31.10.2002 | Child welfare | 3v set | |

| | | | |
| --- | --- | --- | --- |
| 100c | 29 | Brown Pelican Pelecanus occidentalis | |
| | | | | |
| --- | --- | --- | --- | --- |
| 2004.01 | 31.03.2004 | Seabirds | | |




| | | | |
| --- | --- | --- | --- |
| 70c | 66 | Cabot's Tern Thalasseus acuflavidus | |
| 75c | 29 | Brown Pelican Pelecanus occidentalis | |
| 80c | 30 | Magnificent Frigatebird Fregata magnificens | |
| 90c | 66 | Laughing Gull Leucophaeus atricilla | |
| | | | | |
| --- | --- | --- | --- | --- |
| 2005.01 | 31.05.2005 | Sunset | 3v set | |

| | | | |
| --- | --- | --- | --- |
| 205c | 29 | Brown Pelican Pelecanus occidentalis | |
| | | | | |
| --- | --- | --- | --- | --- |
| 2005.02 | 29.07.2005 | Birds of prey | | |




| | | | |
| --- | --- | --- | --- |
| 60c | 38 | American Kestrel Falco sparverius | |
| 75c | 78 | Burrowing Owl Athene cunicularia | |
| 135c | 36 | Western Osprey Pandion haliaetus | |
| 200c | 38 | Northern Crested Caracara Caracara cheriway | |
| | | | | |
| --- | --- | --- | --- | --- |
| 2005.03 | 29.07.2005 | Birds of prey | Sheet | 2005.02 |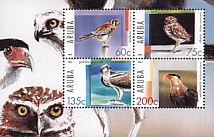 | | | | |
| --- | --- | --- | --- |
| 60c | 38 | American Kestrel Falco sparverius | |
| 75c | 78 | Burrowing Owl Athene cunicularia | |
| 135c | 36 | Western Osprey Pandion haliaetus | |
| 200c | 38 | Northern Crested Caracara Caracara cheriway | |
| | | | | |
| --- | --- | --- | --- | --- |
| 2006.01 | 31.10.2006 | Arikok national park | | |



| | | | |
| --- | --- | --- | --- |
| 75c | 228 | Venezuelan Troupial Icterus icterus | |
| 100c | 38 | Northern Crested Caracara Caracara cheriway | |
| 200c | 78 | Burrowing Owl Athene cunicularia | |
| | | | | |
| --- | --- | --- | --- | --- |
| 2008.01 | 30.04.2008 | Shoco, Burrowing Owl | | |



| | | | |
| --- | --- | --- | --- |
| 100c | 78 | Burrowing Owl Athene cunicularia | |
| 150c | 78 | Burrowing Owl Athene cunicularia | |
| 350c | 78 | Burrowing Owl Athene cunicularia | |
| | | | | |
| --- | --- | --- | --- | --- |
| 2010.01 | 02.06.2010 | Parrots | | |


| | | | |
| --- | --- | --- | --- |
| 85c | 73 | Blue-and-yellow Macaw Ara ararauna | |
| 90c | 73 | Yellow-shouldered Amazon Amazona barbadensis | |
| 180c | 73 | Scarlet Macaw Ara macao | |









| | | | |
| --- | --- | --- | --- |
| 200c | 38 | American Kestrel Falco sparverius | |
| 200c | 228 | Venezuelan Troupial Icterus icterus | |
| 200c | 208 | Tropical Mockingbird Mimus gilvus | |
| 200c | 26 | Great Egret Ardea alba | |
| 200c | 73 | Brown-throated Parakeet Aratinga pertinax | |
| 200c | 29 | Brown Pelican Pelecanus occidentalis | |
| 200c | 78 | Burrowing Owl Athene cunicularia | |
| 200c | 229 | Bananaquit Coereba flaveola | |
| 200c | 38 | Northern Crested Caracara Caracara cheriway | |
| 200c | 86 | Green Violetear Colibri thalassinus | |
| | | | | |
| --- | --- | --- | --- | --- |
| 2012.01 | 19.01.2012 | Birds of prey | | |









| | | | |
| --- | --- | --- | --- |
| 150c | 37 | Philippine Eagle Pithecophaga jefferyi | |
| 150c | 37 | Harpy Eagle Harpia harpyja | |
| 150c | 37 | Crested Eagle Morphnus guianensis | |
| 150c | 38 | Southern Crested Caracara Caracara plancus | |
| 150c | 37 | Long-crested Eagle Lophaetus occipitalis | |
| 150c | 37 | Crowned Eagle Stephanoaetus coronatus | |
| 150c | 37 | Bald Eagle Haliaeetus leucocephalus | |
| 150c | 34 | Andean Condor Vultur gryphus | |
| 150c | 37 | Golden Eagle Aquila chrysaetos | |
| 150c | 38 | American Kestrel Falco sparverius | |